Remote hiring doesn't work the same way as conventional hiring. This means that your resume for remote jobs has to be different than your traditional resume.
One of the most important things to get your foot into the door for an interview is to highlight the most relevant skills on your resume for remote jobs. This is the only way to showcase yourself as the ideal candidate for the role.
So, have you been trying to get a remote job and tired of never hearing back from the employer?
Well, 9/10 times, it is because of your resume and cover letter.
But, fret not! In this blog, I'll tell you how to tailor your resume for remote jobs to perfection in simple steps.
Resume for Remote Jobs – General Skills That You Must Include
Other than the technical skills that are a must for the core role you wish to apply for, your resume for remote jobs should also showcase general skills.
General skills, also known as flexible skills, help let the employer understand that you'll be a value addition to their team. Here are some general skills that you must include in your resume:
Time Management – This is one of the most critical skills that almost every employer looks for. Mention your time management skills with examples of how quickly you have delivered previous projects will have a huge influence on the hiring decision.
Team Player – Highlight the fact that you're good at making relationships. Remote employees are scattered across the world in different time-zones. You'll have to underline the fact that you can gel well with every member of the team.
Flexibility – Showcase your flexibility as a remote employee. Let the employer know that you're proactive, a go-getter, and a decisive individual.
Task Management – Most remote jobs are driven by online tools like Asana, Slack, Jira, Basecamp, etc. You might not have a working experience of all the tools, but highlighting those that you've used or are acquainted to will create a positive impact on the employer.
Cloud Management – Most remote jobs will need you to manage the work using Dropbox, Drive, and other similar cloud management platforms. Make sure to include cloud management as a general skill on your resume for remote jobs.
Communication – Let the employer know that you're comfortable using email, chats, phones, and video calls to connect and collaborate with the team.
Employers want to learn that you're ready to work from home, and there are a variety of ways that you can illustrate that on your resume. For starters, use your LinkedIn profile to let employers know that you're open to work remotely.
Choosing the Format of a Resume for Remote Jobs
Start by choosing the right resume format. There are a variety of different ways to format your resume. One of the first choices you will make is the type of resume you are going to write: chronological, functional, or hybrid.
Each of these resume styles is useful to different individuals who have different experiences and goals. In making particular formatting choices, such as margin size or font type, the aim is to create a document that helps employers to easily see why you're a good choice for a job.
Check out the best resume formats on this post from Indeed. Alternatively, choose your pick from this detailed post on MyPerfectResume.
The purpose of formatting your resume for remote jobs is to create a professional-looking, easy-to-read document. Employers have only a limited time to look at your resume, so your formatting choices will make details transparent and easy to find.
When you're editing an existing resume for a remote job, you may need to tweak some of the words or phrases to make sure it's still easy to read after you've made the required adjustments. When you are preparing a resume from scratch, be sure to pay attention to how the information appears on the page (A4 size) and change it as needed.
Looking for remote jobs? Here are 6 amazing remote job websites that can help you get started.
And, while you're on the lookout for your next remote job, why not earn some passive income? Check out my guide on making passive income from home while keeping a full-time job.
Additional Tips To Create The Perfect Resume for Remote Jobs
Here are some ideas on how to write a good resume interview for your next job application – and what to do to prove that you have the right qualities for a remote work.
Write according to the job description – This is quite obvious, yet a lot of applicants miss this. Read the job description that you're applying for and create the cover letter and resume matching the requirements. Don't be vague or send through a generic resume.
Mention your personal value proposition – Your personal value proposition (PVP) is like a brand's Unique selling proposition (USP). Understand the fact that you're a personal brand and add a punch line highlighting your distinctive qualities. (see below image for reference)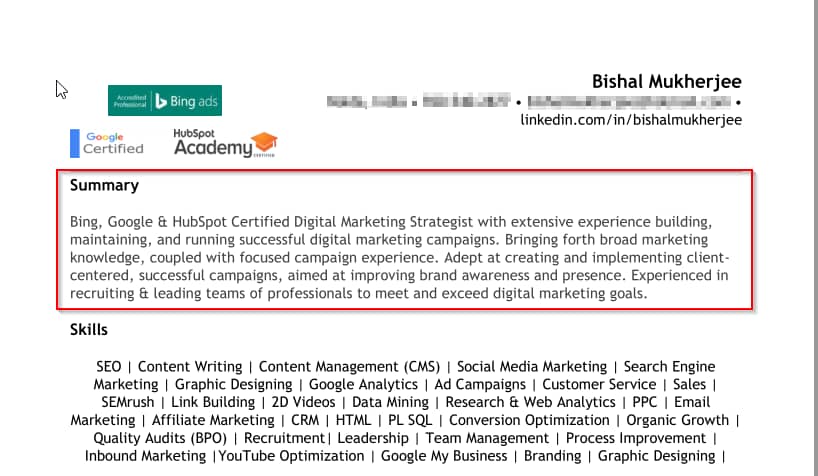 Place keywords strategically – Well, these days, employers don't shuffle through tons of resumes manually. Instead, 99% of the resumes are scanned through Applicant Tracking Systems (ATS). An ATS checks your resume for relevant keyword, and if you don't use keywords that are important to the job you are applying for, your resume will hit the reject pile in a matter of seconds. A good way of ensuring that you add keywords is by reading through the job description and adding "focus" words on your resume. For instance, if you're applying for a marketing manager role, the focus keywords will be sales, marketing, communication, conversion, etc.
Length of the resume – There are a lot of opinions on the length of the resume. However, if you're creating resume for a remote job, the best option is to keep it limited to two pages. On average, a recruiter spends anywhere between 6 to 15 seconds reading a resume. And if it's too long and over-wordy, it's will be thrown away. Use bullet points to save room and improve readability, and do not waste time stating the obvious. Keep it both professional and concise. Choose a font size between 10 to 12.5 points. You can use a font that is professional (never use Comic Sans).
Write an amazing cover letter – Before employers check your resume, they'll review your cover letter. Your cover letter should be short, snappy, and sum up everything you have done in your professional life. Here's a cover letter that got me hired!
Proof-read a dozen times – Everyone makes errors! Proof-read the final copy as many times as you want before submitting it. You don't want to lose an opportunity because of a typo or a missing punctuation. Use proofreading tools like Grammarly to find and remove errors.
Pro-tip: Use the Resume Worded application to test the keywords in your resume. It's easy to use, offers a score and tips on how to develop your resume for more visibility.
Follow the steps listed above for your next resume for remote jobs and you should receive a call/email from the prospective employer asking you to connect for the next round of interview (fingers crossed).
Need help writing a resume and a cover letter? Feel free to connect with me on LinkedIn.