This article will help you start and scale your freelance career while ensuring your long-term goals are met. Please note that this will give you an overall idea, a general strategy you can use to build your own (do not replicate it as is).
Freelancing is not everyone's cup of tea. It might sound harsh, but it is the truth. A freelance career doesn't just come out of thin air. It needs time and patience, dedication and hard work.
To build a successful freelance career, you have to nurture it from the start, unless you're just doing it till you find a full-time gig (or you're under house arrest, and debt collectors keep showing up at your place).
Anyway, the point is: you have to be dead-serious about it. And, if you decide to move on as a freelancer, you need to promise yourself no matter what may come, you'll stick around till you achieve it. There's no going dark once you're in.
Much preach?
Hiring freelancers is not only becoming popular, but it's gradually becoming a widely accepted standard across the world. Owing to this sudden spur in demand, a freelance career is an incredible opportunity for everyone with skills. You can start a freelance career as a side-business and gradually grow it into a sustainable form of self-employment.
Freelance Career – Stats That Matter
Almost every year Payoneer runs a survey on freelancers across the globe to point out rising trends within the freelancing industry via the Freelancer Income Report.
They recently surveyed more than 7,000 freelancers across 150 countries including emerging freelance marketplaces like Philippines, Ukraine, and Pakistan. Here are some key takeaways:
The worldwide average hourly rate charged by freelancers is $21, higher than the $19 average rate two years ago.
70% freelancers are under the age of 35 and 21% are under 25 years of age. Almost 82% of the youth in Asia under the age of 35 are involved in freelancing.
The most popular field of work for freelancers is web and graphic design, followed by programming and IT.
Freelancers with only a high school level education earn more than their peers with a bachelor's degree, and only slightly less than those with postgraduate degrees.
Female freelancers earn on average 84% of men's earnings across all fields. While there is much room for improvement, this gap is substantially smaller than the 64% average for all workers reported by the World Economic Forum.
Social media is currently used by 74% of the freelancers to promote their services, up from 65% two years ago. The most significant change is the growing popularity of Instagram, now used by 21% of freelancers.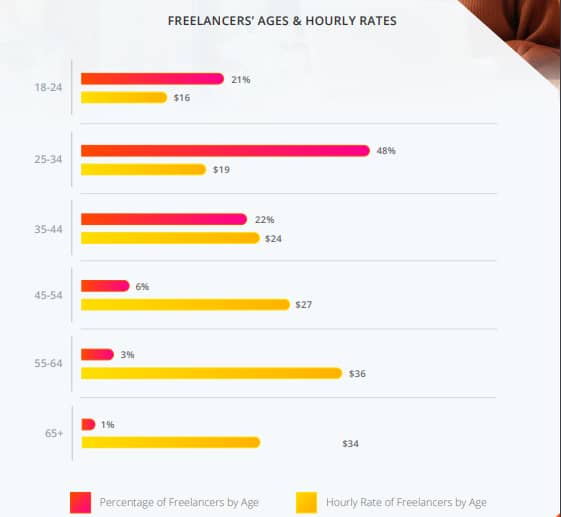 Download the full report.
The Steps to Start a Lucrative Freelance Career from Home
Before you tread the path, you must be clear on why you want to start a freelance career in the first place. Once you have an answer to it, you'll also have the bigger picture in front of you. This will help you utilize your efforts and time properly, thus increasing your chances of success.
1. Define Your Short & Long-Term Goals
If you don't have well-defined and measurable goals – both short-term and long-term, you'll find it extremely difficult to reach your destination.
Introspect on questions such as:
Are you doing it just to make some extra money in addition to your primary job?
Do you plan to nurture this attempt and build a full-time freelance career?
Is this just a stepping stone to finally achieving something totally different?
It doesn't matter what your final goal is, what matters is that you need to be absolutely clear about it. Remember that you can't do everything. At this stage, decide if:
You want to be a freelancer writer?
A freelance graphic designer?
Maybe a freelance SEO Analyst?
No matter which field of work you choose, make sure that you make the right decision. And, once you've done it, start setting measurable benchmarks to make sure you can estimate if your freelance career is progressing.
Set SMART goals – specific, measurable, attainable, relevant, and time-based. You must categorize your goals into short-term, long-term, and continuous. For instance, a short-term goal can be setting up your portfolio or website. A long-term goal can be achieving a certain amount of income in a year, while an ongoing goal can be something as petty as dedicating 3-4 hours every week to build outreach.
Just make sure that you set reasonable goals and define a strict timeline while tracking them effectively. Use an online project management tool to keep a track of your efforts.
2. Build A Presence
After you've decided what you wish to pursue, it is time to build an online presence. In this phase, you need to stop a moment and consider your personal finances.
Do you have enough spare cash to go all guns blazing across social platforms? Would you be able to pay for a website and hosting? And, some other questions.
While having a website isn't mandatory, it is a great way to showcase your portfolio. Then again, depending on your line of work, you can make use of different platforms.
For instance, if you're into graphic designing, you can showcase your work on platforms like Dribble. If you're a writer, you can make use of guest posting platforms or other websites that accept contribution from freelance writers.
Next comes the free-to-use platforms like Facebook, Instagram, Pinterest, Twitter, and more. Use as many platforms as you deem fit as outreach through your social network is an essential ingredient of growth. Keep a consistent identity across platforms, connect and communicate with members to build trust and authority.
3. Network. Market. Repeat.
Trying to grow a freelance career without networking is like driving a car with limited fuel. You can cover some distance, but you won't go much far.
The problem – networking is rather easy in theory, but extremely complicated when practiced. It takes up a lot of time and in most cases one isn't even sure where to start. An easy way to network is to find out where your target audience likes to hang out – both online and offline.
Join dedicated groups and pages on social platforms. Be a part of forums, webinars, and podcasts to connect with more people. Additionally, try joining local meet-ups that are relevant to your freelance niche.
Pro-Tip: Get yourself a pack of business cards. Whenever you meet new people, share a card and ask them to give you one of theirs.
Building a network is an ongoing process. You'll need to keep doing it over and again. Alongside building a huge contact list, you'll also need to market your services.
Develop a solid social media and content marketing strategy. Advertise your skills on freelance marketplaces like oDesk, Upwork, eLance, etc.
Some other ways of marketing yourself are:
Use job boards to find interested clients and send them proposals.
Try connecting with agencies and sign up as sub-contractors.
Make cold contacts using email marketing tactics.
Ask for referrals from existing clients.
Join networking events, business seminars, and more.
Run paid ads on social media and search engines.
Bottom Line
Bear in mind that there's no room for procrastination in a freelance career. It doesn't matter if there's a turmoil in your personal life, timely delivery is what matters the most.
You need to be fiercely dedicated to deliver outstanding results to your clients on or before time. There's no excuse for a missed delivery!
Another important thing is to have a handy resource of tools to help you ease the work. You can either opt for premium subscriptions or use free alternatives.
Most of all, to get results out of your bids and proposals, make sure to be aware of the market rates. If you're a writer, here's a guide on setting up freelance writing rates.
It is much easier to grow a freelance career in theory than when put to practice. But it isn't impossible either!
Odds are that you won't see amazing results right away and you'll probably need to invest a lot of time, effort, and money before getting there. However, stay persistent, keep walking, and you'll achieve the goal.