A lot of new bloggers wonder how to write blogs that score good numbers on SEO parameters. SEO for bloggers is pretty straightforward as you don't have to do a lot of work (unless you want to).
There are a few major criteria that you need to take care of while writing the blog. And, today, I will be telling you easy actionable tips to score at least an 80/100 on every blog that you publish.
PS* This isn't a SEO quick guide. Please visit Backlinko for detailed guides and probably everything you need on SEO.
How to Optimize Blog Post for SEO?
There is no point telling you about the importance of blogging for SEO benefits. But, when it comes to blogging, especially for businesses, clients tend to outsource the work.
And, if you want to bid on that opportunity, you need to know how to write optimized blogs for better search engine visibility. Yes, you can write excellent content! But, are you really taking advantage of the enormous potential of your writing skills?
SEO is vast. And, as a writer, you can contribute much towards your client's overall marketing efforts by writing optimized content. Not only will this help your client get better rankings, but it will also help you retain (and attract) newer clients.
So, without further ado, let's begin! I will share an example side-by-side for your easy reference.
SEO for Bloggers
There are a handful of things every online writer should know – the basics of SEO, knowing which tools to use, and understanding the audience you're writing for.
For starters, note that the scoring of a blog doesn't guarantee a higher ranking on search results. There are many factors that are taken into account by Search Engines to show your content in results.
Some of these factors are –
Keywords.
The EAT factor (expertise, authority, trustworthiness)
Depth of the content
Outbound & Internal links
Relevancy and intent.
Plagiarism, Readability, and Structure.
SEO for Bloggers: Actionable Tips
To perfectly optimize your blog for SEO, break it down into 4 parts –
Basic SEO
Additional SEO
Title Readability
Content Readability
Basic SEO
The basic SEO score for your content depends on the following factors –
Focus Keyword in the SEO Title, Meta Description, and URL.
Availability of the focus keyword in the first 10% of the content.
Overall content length of the blog ( try 700 words or more).
How to Score All-Green in Basic SEO?
Choose the focus keyword (and a couple of secondary keywords). If you're not using a paid tool, visit UberSuggest. Use the FREE tool to research keywords and start writing the blog piece around these keywords. (note* don't force-fit keywords, everyone hates that!)
Next, write an SEO title for your post (this one can be different from the title of your post, but not polar opposite). And, try to keep the SEO title limited to 60 characters or less.
Then, move on to write the SEO URL or slug. If you have access to it, you can change the permalink structure (don't do it without reading about it first).
Finally, write a short and crisp meta description for your blog. Try to keep it within 155 characters. Once you do all of these, your blog should show up in results as below –

For instance, the topic is "Remote Jobs". The client has provided you (or you've researched) the keywords wherein "remote jobs" is the primary keyword and "remote jobs online, work from home, work from home jobs" are the secondary keywords.
Make a checklist and try to meet all the points listed above. To score a perfect 25%, your list should look like the below.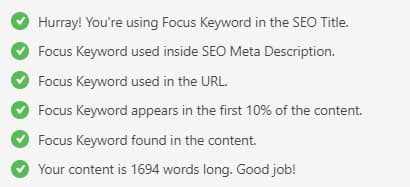 Additional SEO
Yes, you have aced the basic seo score. Now, it's time to take care of almost 50% of the total parameters.
Under additional SEO, you need to take care of the below points –
The length of the URL (recommended length – 48 to 60 characters)
The use of focus keyword in the Headers, sub-headers, and Alt-attributes.
At least 1 external link (Do-Follow)
A minimum of 1 internal link.
Keyword Density (though there is no fixed number, don't overuse the keyword or its variations. Make them flow within the content naturally).
"Maintaining the correct keyword density is very important. Experts suggest that anything between 1 to 3 percent is fine enough. Anything more than that might be considered as search spam."
How to Pass the Additional SEO Test?
You can calculate your keyword usage density by using this simple formula-
Keyword Density = (No. of times keyword has been used / Total Number of Words) X 100
For instance, the focus keyword "remote jobs" and its variations were used 25 times throughout the blog. And, the total word count is 1648 words. Thus, the keyword density is around 1.49%.
Make a checklist of the below factors and follow them when you write the content for your blog.
Title Readability
A title is rated on 4 parameters –
Focus Keyword Usage
Sentiment of the Title
Use of Power Words
A Number in the Title
Match all or at least 3 of these to check-off the first 15% 😎.
How to Pass Title Readability Test?
It's simple. Write as many titles as you want, and check them on Headline Analyzer. I prefer to use titles that score 70 or higher in this test.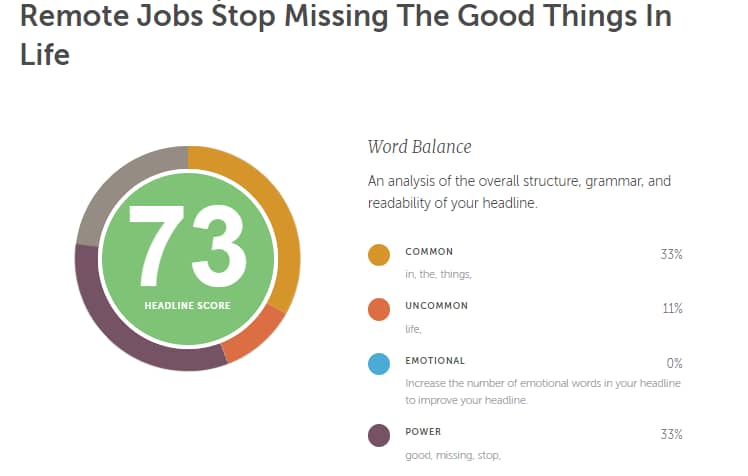 For instance, the title "Remote Jobs Stop Missing The Good Things In Life", scores a 73 on this test. Plus, it has the right number of characters and words. And, it also has the correct amount of power and emotional words.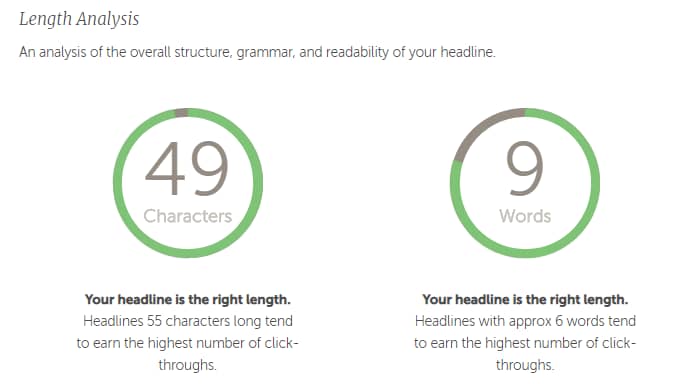 Next, I modified the SEO Title (see, this title doesn't have a number). I changed it to "Remote Jobs? 6 Genuine Websites to Boost Your Job Search". This way, I am able to score on both parameters with just a minor adjustment in the title.
Build a checklist as below and try to achieve all of them for a higher score.
Content Readability
This, I believe, most of you are aware of! Whenever you write a blog/article, you need to proofread it for grammatical errors and ease of understanding. But, there are many sub-factors that come into play.
The most common factors are –
Using a Table of Content (for better user experience)
Readability Test (Flesch & Kincaid, Gunning Fogg, ARI, and a lot of other similar tests)
Rich Media (images, videos, gif, etc.)
How to Pass the Content Readability Test?
Grammarly is the go-tool for proofreading, right? All of use it! Some even use Hemingway Editor to check problems in their text while they write. I prefer to use WebFx Readability Tool to double-check the score received from Grammarly. Try it once, you'll like it!
Tip: Always aim to score 60 or higher in Readability Tests. 60 means that your content can be easily read by someone with an eight-grade education.
If you meet all of these parameters, you will score perfectly. Make a checklist of the below points for reference.

Conclusion
So, this was it! A quick and easy to follow SEO tips for bloggers. When you sum up the total number of factors that you have achieved, you will get to know how much your blog has scored on SEO parameters (it is way easy if you're using plugins like Yoast).
For example, after everything was checked off, the post "Remote Jobs: Stop Missing the Good Things In Life" scores a 94 out of 100.
To sum it up, SEO is an important part of blogging. It is easy to get started with the basics, and you'll keep learning with time.
Need help learning SEO? Want me to check your content? Feel free to connect with me via the comments sections (or, you can also connect via the LIVE CHAT option).