Disclosure: This Binance Review 2021 isn't a sponsored review. It is based on my personal experience as a long-time user of the platform. Also, this blog isn't a financial advice and I'm not a financial advisor. Please DYOR before investing in cryptocurrencies.

Bishal Mukherjee
If you've been following the crypto world recently, you know that there are a lot of choices in crypto trading platforms. These range from centralized exchanges to decentralized exchanges and everything in-between.
The fact that there are so many options can be overwhelming for newcomers who don't know what they need, or why they need it.
Personally, Binance is the best place for me because of its low fees, high liquidity, range of tokens, and passive earning opportunities (more about this later).
But I also understand that there is no "best" exchange for everyone. It all comes down to what cryptocurrency you want to trade and what features you need. Some people prefer trading on more reputable exchanges, while others just want the best rates for their money.
Either way, Binance certainly has something for everyone.
Skeptic much?
Well, to back up my point, I decided to do a totally honest, unbiased (and unpaid) "Binance Review 2021" to share my personal thoughts on why I chose Binance over all the others.
FYI, this review is based on my daily use of the Binance global platform and not Binance US. Feel free to skip to the section you want to learn about most by using the table of contents.
Not interested in trading but want to earn free crypto? Here's a guide that will tell you about six platforms where you can earn cryptocurrency by blogging.
TL;DR: Binance
Binance is a cryptocurrency trading platform that offers "pretty much everything". It has a user-friendly interface, there are no limits on what you can trade, and it offers a wide variety of coins. It was created by a team that had been working in the blockchain industry for a long time, and they have an excellent reputation (except of course the recent shitstorm related to regulations).
As well as being secure and easy to use, Binance also has its own coin called BNB. The BNB coin can be used to get discounts on trading fees or save money when using the exchange. In addition to all these reasons, I chose Binance because it offers a ton of passive income opportunities on coins that I HODL anyway. It allows me to earn interest from flexible and fixed savings account, staking, liquidity swap, lending, yield farming, and several other options.
Oh, and they just launched the Binance NFT Platform, where you can find exclusive Binance IGO (Initial Game Offering). These are just like ICO (Initial Coin Offering), but for gaming. You can get free NFTs of upcoming games, which you can later trade in the marketplace to earn extra revenue.
And if this isn't enough to convince you, let me tell you that Binance is the #1 cryptocurrency exchange according to CoinMarketCap. Here's a quick comparison of the top 10 exchanges to give you a better idea of where Binance stands:
Binance Review 2021: Pros & Cons
Pros
Low fees
Allows fiat to crypto conversion
Intuitive user interface
Compatible across devices and OS
Offers 400+ tradable tokens
Has an NFT marketplace
Offers several passive income opportunities
Runs continuous promotions
Cons
Regulatory problems (in most jurisdictions)
Customer Support can be better
Should add more tutorials on futures & options trading
Fee structure can be more simplified
The Basic Details
Binance Is Best For
Beginners
Expert traders
Institutional investors
HODLers who want access to DeFi earning opportunities
Binance Review 2021: All You Need To Know
There's a lot to cover. But I'll highlight some of the most important features in this Binance review 2021 – enough to help you make an informed decisions.
When it comes to Binance's products and services, you get the following:
Cryptocurrency exchange
Institutional services
Decentralized exchange (DEX)
In-depth research, analysis, and reports (Advanced Trading/Binance Pro)
Binance Live (live blockchain broadcasts)
Binance Academy (for all the crypto knowledge you'll ever need)
Binance Charity
Binance Lab
Trust Wallet
Binance NFT Marketplace
Binance Broker
Binance Cloud
Binance Launchpad
Binance Earn
Binance Pay
Binance Gift Card
and a lot more
But to make things easier for you, let's review one aspect at a time.
Registering On Binance
All you need to do is visit the official website and click on "Register". Then select your country, enter the required details, and click on Submit. Your account should be ready within a minute.
Sign-up using my referral ID to earn discounts on trading fees.
Next, you'll need to provide your ID and other documents for KYC/AML verifications. If you upload the right documents, it doesn't take long to get verified (mine took less than 10 minutes).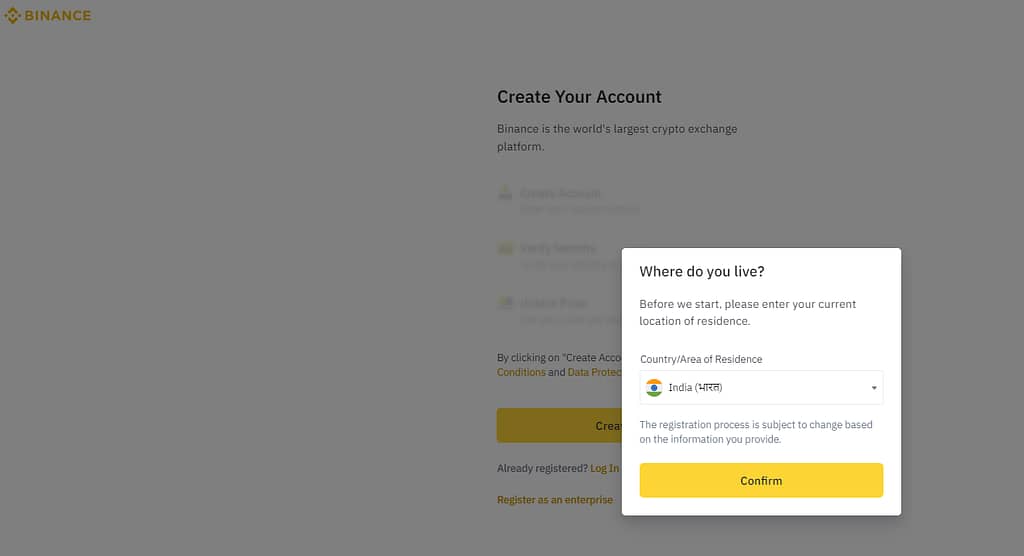 That's it! Once you receive the KYC verification confirmation, fund your account and start trading.
Accepted Payment Methods
Binance accepts fiat deposits, P2P purchases, as well as crypto deposits. Here's the list of accepted payment methods:
Buy Crypto Using Fiat Or P2P
You can use your Credit/Debit card to add funds to your Binance Funding Wallet. Choose the fiat currency you want to spend and the cryptocurrency you want to buy. As soon as you type in the amount (in fiat), Binance will show you real-time conversion in crypto. Add your card, enter the details, and click on Buy.
Binance also allows you to add fiat directly to your wallet via bank transfer and other third-party payment channels like ADVcash, Simplex, Ininal, Etana, GEO Pay, and Flutterwave. For bank transfers, Binance only accepts EUR, AUD, USD, and BRL.
Finally, there's an option of P2P trading. You can buy from verified sellers through Binance. All transactions are done outside the network, but Binance ensures that once you transfer funds, you receive the crypto within minutes. But keep in mind, P2P trading may be risky, so consider reading through the Binance P2P trading guidelines first.
Adding Crypto To Your Binance Wallet
If you already own cryptocurrencies in other external wallets, you can simply transfer them to your Binance Funding Wallet. Make sure to enter the correct address, select the correct token and network type, review the gas fee, and transfer your assets to Binance.
Not sure how to transfer cryptocurrencies from one wallet to another? Check this detailed guide to get started.
Fees And Limits
Of all the platforms that I have fiddled around with, I find Binance's fees to be the lowest. As any other centralized exchange (CEX), Binance, too, follows the maker-taker fee model. The best part – both maker and taker fees are same. You'll get additional discounts based on your VIP Level and if you use BNB coins to pay the fee.
Deposit Fees
Binance doesn't charge any fee for deposits. However, you'll have to bear the costs of the gas (crypto deposit) and the bank or service provider's charges (fiat deposit).
Withdrawal Fees
There is no charge for fiat withdrawals, except of course the portion that your service provider would charge. However, all crypto withdrawals require a network fee. Binance usually charges a flat fee to cover the costs. You'll be notified about the real-time rates before you process the transfer.
The fee varies by the type of token and the network selected. Check the full list here.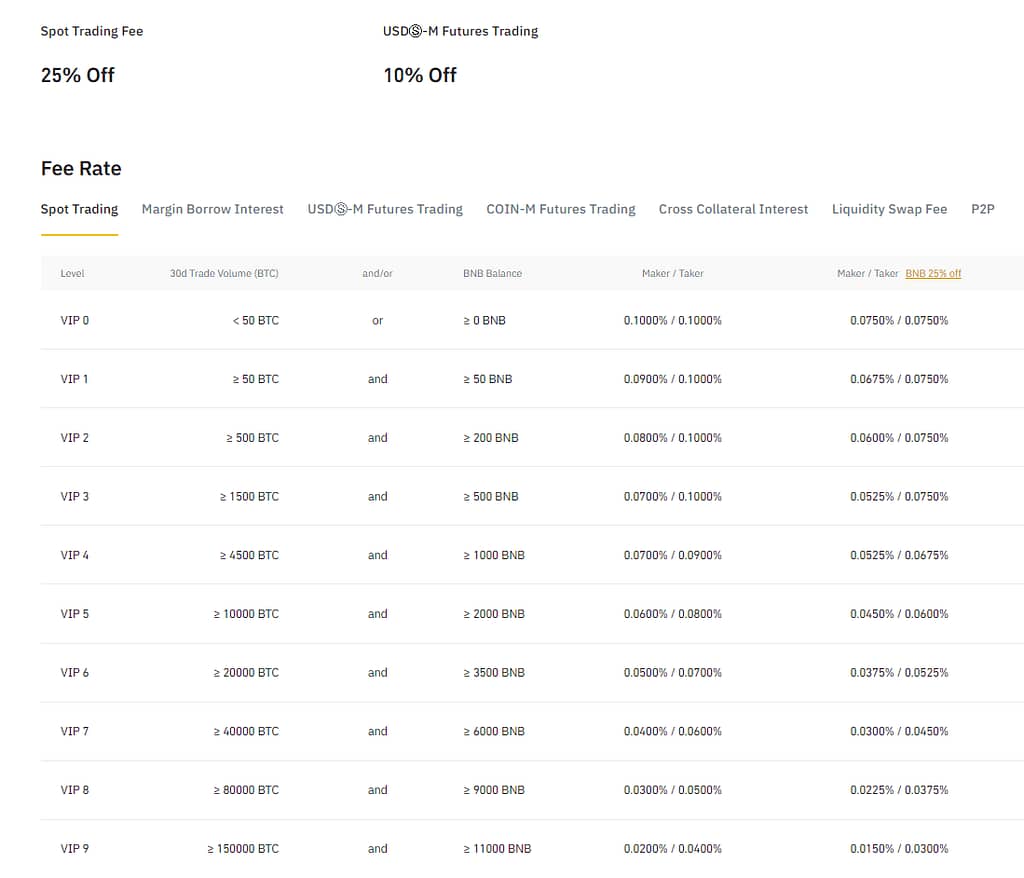 Trading Fees
Fees for spot trading are as follows. Note that the fee will vary based on your VIP Level. For instance, users at VIP Level 0 pay the highest fee and those at Level 9 pay the lowest.
Maker fee – 0.02% to 0.1%
Taker fee – 0.02% to 0.1%
Binance also charges an interest on Margin Borrowing, Futures Trading, Liquidity Swap, and P2P purchases. It varies by the token borrowed and your VIP Level. Check the list here.
Tip: Always use BNB to pay for fees. You'll get an additional 25% discount.
Min/Max Limits
All withdrawal limits on Binance are determined by the overall BTC value in your wallet. If you have cleared the basic level of verification, you can withdraw up to 0.06 BTC daily. For users who have completed full verification, the daily withdrawal limit is up to 100 BTC.
For specific cryptocurrency withdrawals, there are limits depending on the token. Check the full list here.
Products And Services
Binance serves both retail and institutional clients globally. Hence, it has a wide range of products and services. But in this review, I will only discuss the features that you'll probably use the most.
Trading
Binance offers a centralized exchange (CEX) and a decentralized exchange (DEX). Trading options include spot trading, margin trading, derivatives and futures trading, and P2P trading.
It has over 500 tokens available for trading and is continuously listing more new tokens. You can either use the "simple trading interface" or the "advanced trading interface" according to your convenience. The platform also offers strategy trading and swap farming (earn BNB).
Other than this, Binance also offers a range of derivatives trading options, including:
USD-M Futures – Perpetual and/or quarterly contracts, settled in BUSD or USDT.
COIN-M Futures – Perpetual and/or quarterly contracts, settled in cryptocurrencies.
Binance Leveraged Tokens – Get increased leverage without the risk of liquidation.
Binance Options – Offers limited risks and higher profits.
Word Of Caution: Derivatives trading is extremely risky. Make sure you know what you're investing in and do it smartly.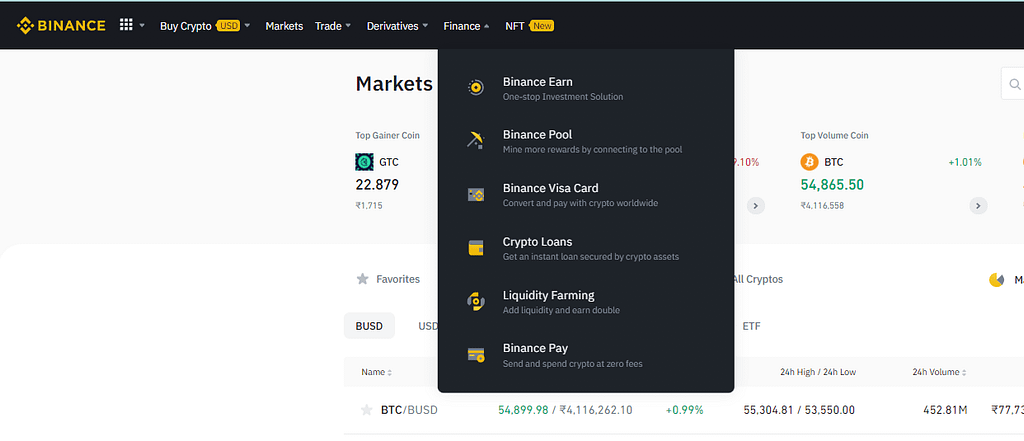 NFT
If you like flipping NFTs with an aim of profiting from them, the Binance NFT platform will help you stay in the game. You can buy NFTs from other creators and list your NFTs to earn additional revenue.
Binance Earn
This is probably the best feature on Binance that everyone should try. If you prefer to HODL your tokens, Binance gives you a way to generate additional income through the assets you already own.
You can put your tokens in fixed and flexible deposits to earn interest on a daily basis. Or you can add them to liquidity pools and earn extra rewards. Then there is the option of staking and yield farming, both of which are other proven ways of generating a passive income with digital assets that you already own.
Binance Card And Binance Pay
Need a way to spend your crypto?
Use Binance Visa Card to seamlessly pay with crypto for goods and services across 53 million Visa merchant stores worldwide. Alternatively, use Binance Pay to send and receive cryptocurrencies at zero fees, without any geographical restrictions.
Security And Reliability
Security is a top priority at Binance. The platform offers multi-layered security to ensure your funds are safe, including hot and cold wallets, two-factor authentication (2FA), and SAFU (Safe Asset Fund for Users).
Additionally, Binance also allows you to whitelist IP and wallet addresses, add anti-phishing and anti-scam codes. To top it all, it also requires you to set-up another authentication password through Google Authenticator.
There has been no major breach reported since the one in 2019 (the one where Binance lost 7,000 BTC to hackers). But the platform refunded all the users who were victim of this cyberattack. If that doesn't make it reliable, I'm not sure what else would.
In all honestly, I need to tell you that Binance has been facing problems with regulatory guidelines in certain jurisdictions. For instance, it has been asked to stop offering certain services in the US, the UK, Singapore, and some other countries. While Binance is working hard to meet all compliance guidelines, I suggest that you DYOR before signing up.
Customer Service
Binance has a "submit a ticket" support culture. It also has a live chat feature that supports 8 languages, which you won't generally require because the Help Center and Binance Academy has all the resources you'll ever need. You can also connect with the Binance team on Twitter, Facebook, Discord, and Telegram.
Personally, I've never contacted support, so I can't exactly tell you about their speed of responses or resolutions.
Conclusion
Overall, Binance is an end-to-end crypto exchange that serves the need of both retail and institutional traders. It has a wide range of crypto-centric products as well as DeFi options to help you grow your portfolio.
The advanced trading features like the built-in integration with Trading View, automations like stop loss and limit orders, and the cost-efficient fee structure makes it a good choice for all types of investors.
That said, make sure to check your country's regulations and Binance's terms of service before signing up. Finally, remember that cryptocurrency trading is risky, so make sure to learn the basics before you invest any money.
Binance Review 2021: FAQs
1. What is Binance?
Binance is a global cryptocurrency exchange that offers a range of crypto-centric products and services, including but not limited to trading, NFTs, and DeFi earning.
2. What payment methods does Binance accept?
You can fund your Binance wallet using fiat and crypto. Pay via credit cards, debit cards, bank transfer, or third-party service providers.
3. Are there deposit and withdrawal fees on Binance?
Binance doesn't charge any deposit fee. There is a fee for crypto withdrawals to cover the network fee. It varies according to the token and the network.
4. How many cryptocurrencies are on Binance?
Binance has more than 450 cryptocurrencies and is continuously adding more to its exchange.
5. Can I use Binance in India?
Yes, you can use Binance in India. In fact, WazirX has been acquired by Binance, so you connect your WazirX and Binance account to transfer funds.