Freelance jobs on Craigslist can help you generate a decent secondary income. Here's a detailed guide on how to find the right gigs on this platform.
Craigslist is a well-reputed site. In fact, it is one of the top 20 websites in the US. However, the website doesn't get enough credit even though it has been providing reliable and steady service year after year.
craiglist.org was officially launched in 1995 with its headquarters in San Francisco, CA. It was founded by Craig Newmark, hence the name craigslist. With over 50 billion views per month, this massive website has around 700 localized sites in 70+ countries.
That said, Craigslist has had its fair share of ups and downs. From scams to illicit deals, you can find almost everything on this website. This is one of the primary reasons behind freelancers not trying to pitch on the job listings on this site.
While this is true to an extent, you can still land some decent freelance jobs on Craigslist. It goes without saying that you need to be extremely cautious when trying to grab a gig.
Keeping this in mind, let me help you navigate the weird (yet profitable) world of Craigslist as a freelance writer. If you follow the instructions listed below, you'll surely find and land high-rated freelance writing gigs.
Scroll around the website and you'll find more than a million job listings every month. Cool, right?
Before providing you with more insights, let me quickly give you an overview of what this website is and a bit of background information.
What Is Craigslist?
Based on the company's LinkedIn profile, Craigslist is a place to buy, sell, rent, hire, share, meet, swap, discuss, find, serve, connect, give away, announce, work, collect, care, perform, learn, marvel, mentor, befriend, fall in love, and/or save the world.
How Craigslist Helps Freelancers?
Although the website is primarily about buying and selling items, there are a lot of sections where job listings are posted.
It can be a bit confusing, especially if you're using it for the first time. But once you start spending time on the website and follow these instructions, you'll find it rather easy to locate and apply to listings where businesses/individuals are hiring freelancers.
Here's how it works:
When you type in www.craigslist.org, you'll be redirected to the homepage, which is full of lists, including states and cities.
For instance, I'm from Delhi and this is what my homepage looks like.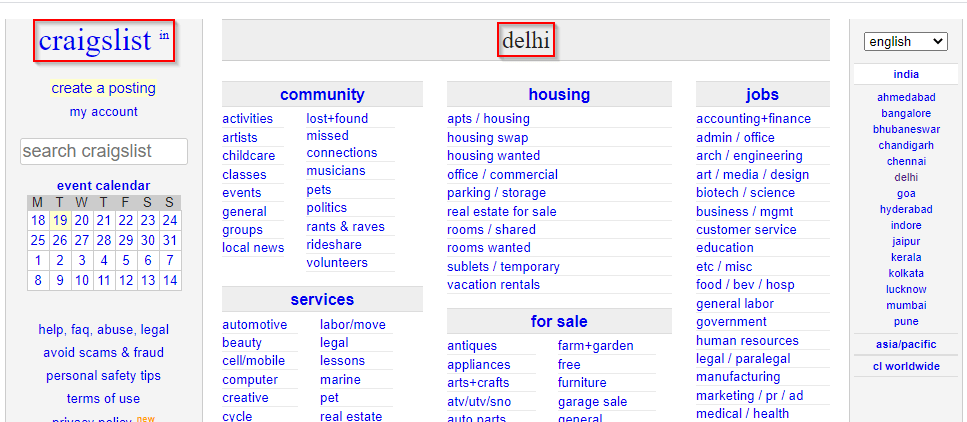 You can easily change the city, the state…even the country from the panel on the extreme right. For example, let's say you want to find some freelance writing jobs in the US, all you need to do is click on CL Worldwide and then select the region (Americas), then the country (United States).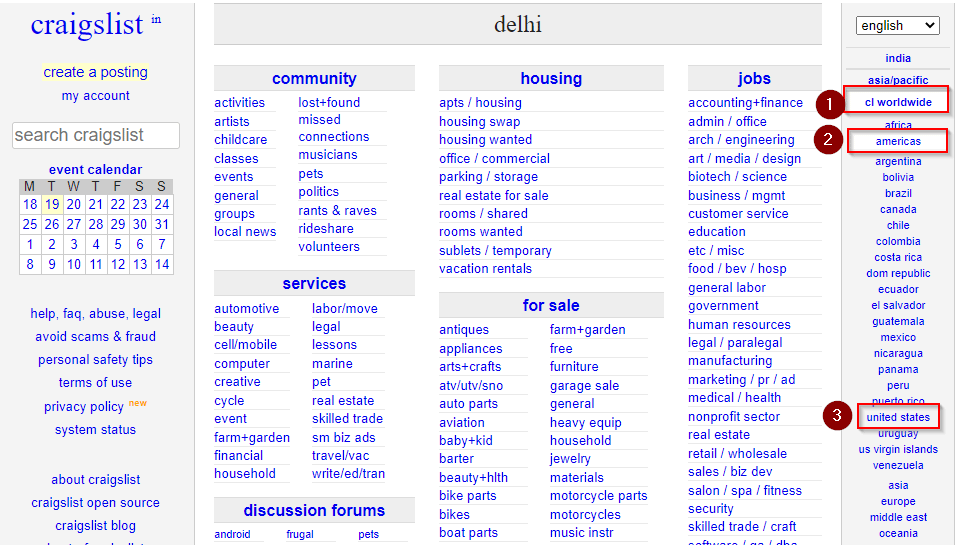 Once you do this, you'll be redirected to the Homepage and the website will ask you to provide location access. Select the state you prefer to start navigating the listings.
For example, I chose Palm Beach Country to find suitable freelance gigs. If you check under the Jobs section, you'll see all kinds of listings under specific sub-categories, including Writing/Editing.
Click on it and you'll see a new page with hundreds of listings. Filter the list as per your requirement to find jobs that match your skills. You can also save your search filters for future use.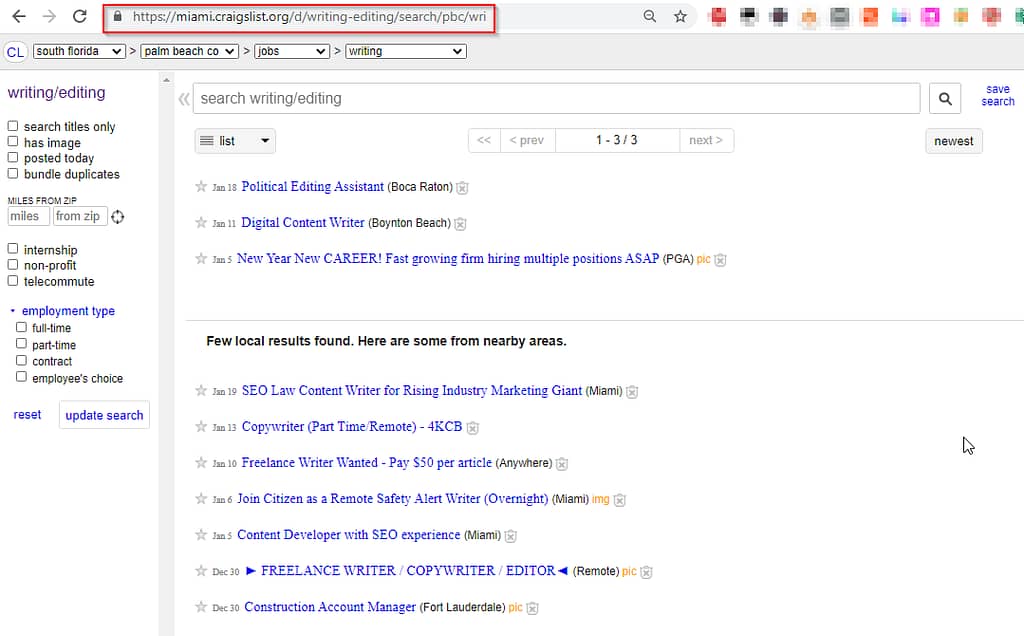 It is always a good idea to search for job listings that are closest to your geographical area. That said, you can also search for jobs anywhere in the world…that too, from the comfort of your home.
Tip: Check out the listings of smaller cities as they offer consistent work, primarily because most experienced writers don't filter down their search to these cities.
One of the best things about the job listings on this website is the option to telecommute. If you have an excellent internet connection, the gadgets to get the job done, and if the client accepts remote applicants, you can work from anywhere in the world. This means you can apply and earn from gigs listed in Alaska, even if you stay in Kerala.
If you're a freelancer, your primary search filter should be "remote, anywhere, telecommute". Using these filters, you'll be able to find the perfect jobs that fit your work style.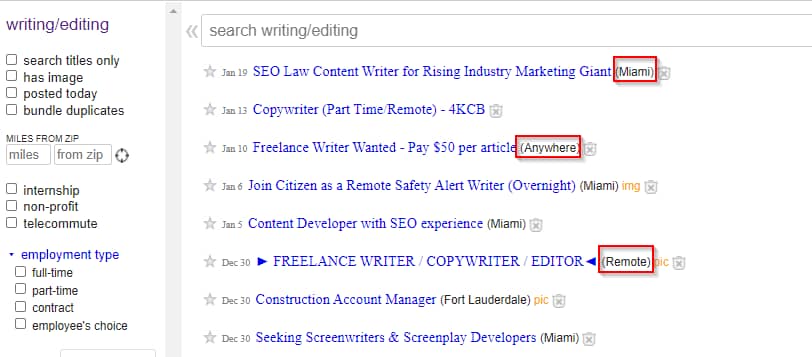 That's it. Click on the job listing that you wish to apply for and follow the application process. For most listings, you'll need to send an email to the recruiter. On the other hand, some recruiters also add direct links to the application page(s) of their websites, making it even easier to apply.
Additional Hacks for Locating the Right Freelance Jobs on Craigslist
Let's say you have drilled down every listing under Writing/Editing section, but you still haven't found the right gig.
Don't lose hope yet!
Please check Gigs, Discussion Forums, and Part-time sections as well.

Other than this, you can also set-up Google Alerts and optimize your search queries for relevant freelance jobs on Craigslist.
Here's how you can set it up:
Type in "freelance writer" site:craigslist.org on the search bar. You may create multiple alerts using other relevant keywords like blogger, remote writer, etc.
Go to google.com/alerts and set up multiple alerts using the queries. Set up your email address and timing. Done! You'll now start receiving regular updates from Google.
Now that you've employed Google to find you freelance jobs on Craigslist, let's benefit from other websites that also compile a regular list of jobs.
One of my favorite sites is searchcraigslist.org. This website allows you to filter all of the freelance jobs on Craigslist with a simple click. Just enter the keywords in the search bar and the website will do the heavy lifting for you. Isn't that cool?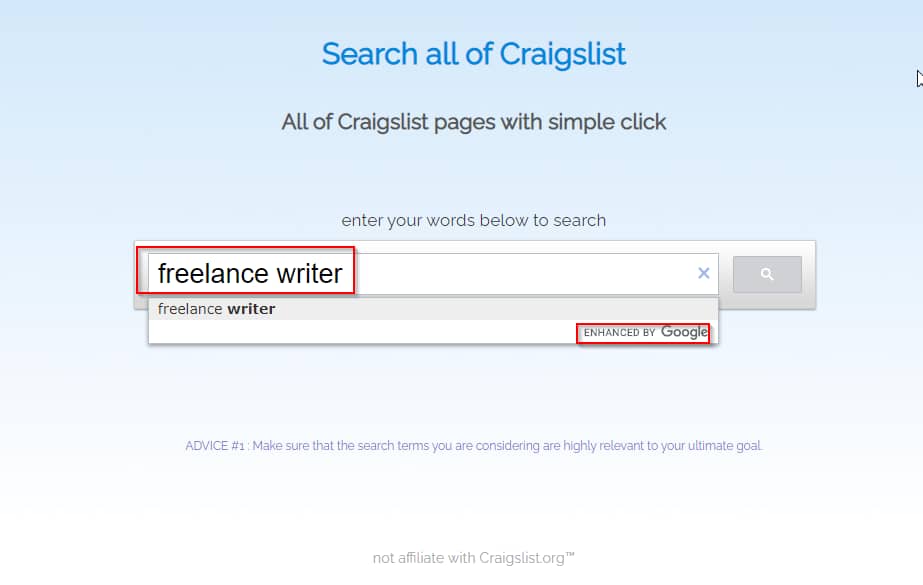 Did you know proofreading is another great option to make extra money, especially if you're into freelance writing? Check out my guide on proofreading jobs.
Word of Caution
Not all freelance jobs on Craigslist are what you think they are. Tread carefully as the website is infested with scammers.
Yes, it does help you generate a decent income, but you need to be extremely cautious of the jobs you're applying for. No one wants to spend sleepless nights worrying if they'll ever receive payment for the submitted work.
Look out for visible red flags. Be thoughtful, curious and contemplative as these will help you avoid scams.
A rookie mistake that I made was agreeing to write unique samples (unpaid) and emailing them so I can get the job. Weeks later, I realized that I was scammed.
Based on my experience in finding and earning from freelance jobs on Craigslist, here are some things I recommend you do to be on the safer side:
Try researching the company on the internet. For US-based companies, I prefer to run a search on Better Business Bureau (BBB) and Trust Pilot.
Most scams are perpetrated by agents posing as if they are posting a gig on behalf of the company. If you find rather short ads with poor sentences and grammar, it is in your best interest to avoid them.
Never sign-up for a paid service. A writer should never pay to get a writing job.
Do not agree to sending unpaid samples.
Look up contact email addresses. If a job is listed by a company or an individual on behalf of a company, the email domain should be [name]@[company_domain].[com] and not some random hotmail, yahoo, or rediffmail domain.
Cross-check the client's contact details and ad copy on LinkedIn, Glassdoor, and other similar platforms. If a company is hiring, they won't limit their job posting to just Craigslist.
Finally, don't fall prey to high-paying gigs. For instance, freelance writing ads that list a compensation of $5,000 for a short story.
You're all set to start finding freelance jobs on Craigslist.
I hope you'll now be able to find the writing opportunities available on this massive website. Take your time to navigate around the website and understand how it works.
Finally, write enough proposals and pitches to attract and convert these leads to paying customers.
Have you already found freelance jobs on Craigslist? If yes, let me know which tricks you used.