'How to make money online' – this is probably one of the most recurring searches on Google.
After all, who doesn't like some extra cash flowing into their pocket?
A little side income can go a long way in helping you contribute towards your dream of a new mobile, gaming console, or even a new car.
Before you get all hopeful, let me clarify that there are many different ways to make money online. Some legit, some not. But as the name suggests "side income", it is just an added source and you can't possibly depend on it for a living.
Still, if you want to make extra money online, that too from the comfort of your home, these jobs are perfect for you.
First things first, you need to be internet savvy and understand how technology works to benefit from these gigs. Also, a PayPal account is mandatory if you want to get paid on time.
Now that we have laid down the basics, here are 7 amazing websites and apps offering consistent work and timely payments while helping you gain relevant experience.
Authentic Sources to Make Money Online
Here are my top picks of websites and apps that have been around for quite a while. These are reputed sources and don't hold up payments (unless there's a technical glitch).
UserTesting
This website pays you to share your opinions and experiences with brands and their products. All you need to do is sign-up, provide feedback on the products and services listed, and get paid.
Big brands like CBS, Adobe, Home Depot, etc. rely on UserTesting to derive valuable insights and design their products based on the feedback collected from participants.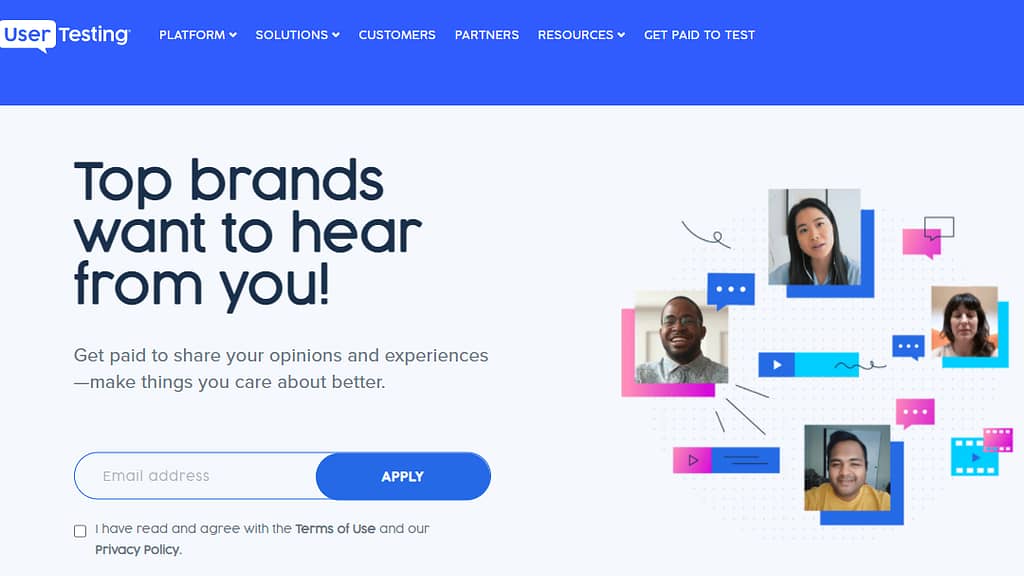 The website claims to have registered over 3,000,000+ tests. It also highlights that it made successful payments to over 1,200,000 participants in 2019. Compared to other testing sites, this should be at the top of your list if you wish to make money online quickly and easily.
Mode: Website and Mobile App
Primary Task: Reviewing Websites
Payment: PayPal
Bonus for signing up: N/A
Appen Connect
Appen Connect is always on the lookout for candidates from around the globe for amazing work-from-home jobs. These job offers can range from simple one-hour surveys to ongoing tasks stretching for months or longer.
Visit the official website and fill up the application form.  Once the team reviews your application and if you fit the requirements, you'll be provided access to the 'Project Page'. The company keeps adding new tasks frequently, so make sure to check in often.
You'll be paid on a monthly basis after you send the invoice accounting the total working hours for the month. Expect payments within 30 days after successful validation of your invoice.
Mode: Website, Mobile App
Tasks: Surveys, Linguistics, and more.
Payment: Payoneer, PayPal
Bonus for signing up: N/A
Serp Clix
This is another cool website that makes it extremely easy for anyone to earn a few extra bucks. Serp Clix has been around since 2016 and allows you to request payment when you have accumulated just $5.
You can earn anywhere between $0.05 and $0.10 per click. Heck, they even offer a 10% referral commission. You don't need any special qualification to start working. There are no geographical restraints or interviews. Just visit the website, signup and start earning.
Payments are processed through PayPal once you reach the minimum threshold of $5.
Mode: Website
Tasks: Click on links
Payment: PayPal
Bonus for signing up: N/A
Testable Minds
This organization was developed with financial assistance from an Arts & Humanities Research Council grant.
Founded by a small group of science aficionados and academics, backed by a great team of academic advisors, Testable Minds is a platform where you can make money online by participating in behavioral and psychological studies and experiments.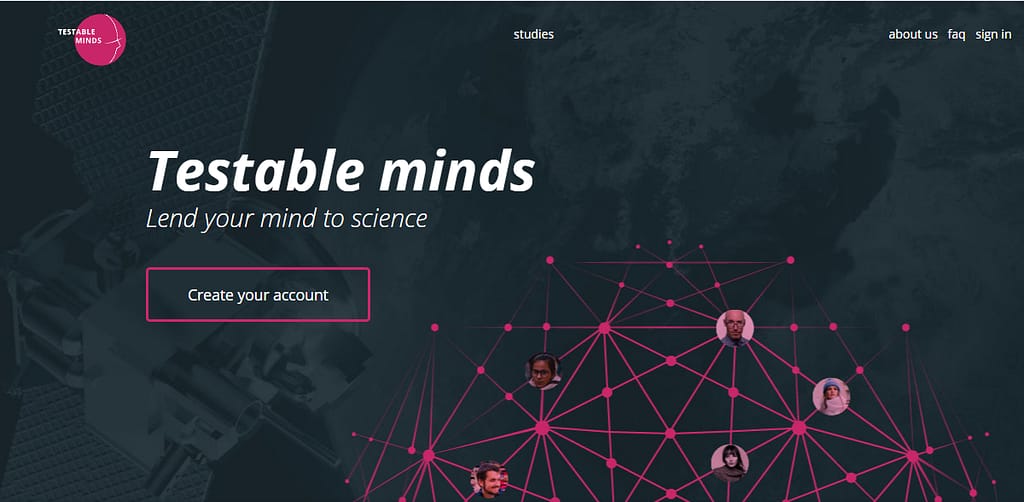 To be eligible for participation, you need to register and submit a form (questions related to your personality). Try filling up the form as much as you can because it will increase your chances of being eligible for more projects and higher pay.
Each project has a different payout, duration, and complexity. After successful completion of a project, your fee will be reflected under your account. Once you accumulate $10 in your account, you will be eligible to request withdrawal.
Mode: Website
Tasks: Behavioral and psychological studies and experiments
Payment: PayPal, Revolut (recommended)
Bonus for signing up: N/A
Prize Rebel
This website allows you to earn points and redeem them as cash or gift cards. Prize Rebel consistently hires new members and survey takers.
Visit the official website, register and fill out your profile to get matched with relevant surveys. After successful completion of each survey, you'll receive points that can be exchanged for direct bank transfers, PayPal money, Amazon, PlayStation Store, eBay, Steam and Visa Gift cards, and more. Overall, this platform is one of the best ways to make money online.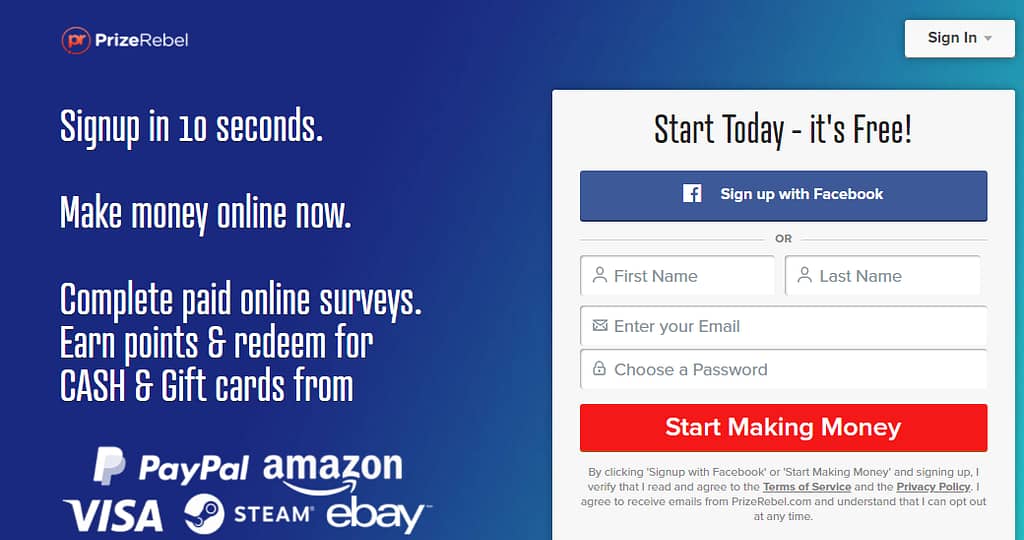 Payouts start as low as $5. You don't need any special qualifications to sign up and the program is available in almost every country.
Mode: Website
Tasks: Surveys
Payment: PayPal, Gift Cards, Direct Transfer
Bonus for signing up: N/A
Citizen Me
This mobile app allows you to take better control of your data, while rewarding you for it – on your terms.
When it comes to easy tasks and quick payments, Citizen Me, leads from the front. From paid surveys, anonymous opinions and personality insights, you can find various opportunities to make money online. The more you share, the more you earn.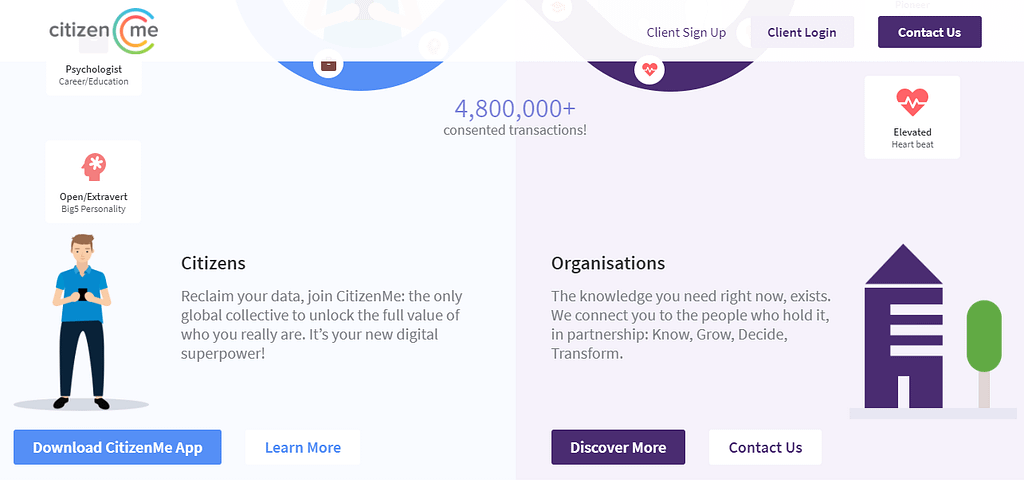 As far as payments are concerned, payout is instant. You can link your PayPal account and get paid as soon as you complete a task.
Mode: Website
Tasks: Surveys
Payment: PayPal, Gift Cards
Bonus for signing up: N/A
Streetbees
Streetbees is more than the average survey app. You can earn up to 5 euros for each detail you share with the brand. You can share as much personal details or as little as you want –no questions asked.
To get started, download the app and register your account. Start reviewing the surveys that are available on your profile, complete them, and get paid immediately after completion.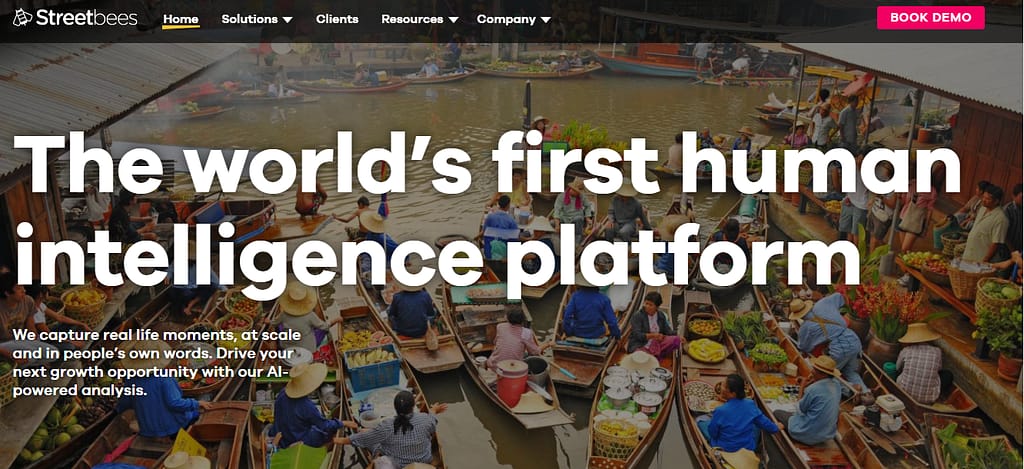 Keep in mind that the available surveys may be limited from time to time. It is important that you try filling out your user profile to the max so you can get matched with more opportunities.
Mode: Website, App
Tasks: Surveys
Payment: PayPal
Bonus for signing up: N/A
Conclusion
There are way too many websites and apps that allow you to generate a steady secondary income. However, tread carefully, as not all sites are legitimate. Don't fall prey to the "make money online" scams (they're everywhere).
The websites listed in this blog have been around for quite a while. They have a lot of positive user reviews and authoritative online presence. Browse around and read through existing user reviews before you decide to sign-up for side income opportunities, especially online gigs.
Finally, keep in mind that this is just a way of adding some extra funds to your pocket. The money you will be earning from these websites is decent but not enough to cover all of your expenses. If you think you can manage multiple tasks while juggling between your full-time job and other responsibilities, these side gigs are for you.
So, sign up today and start earning.
Need more tips on how to make money online? Check out my guide on tried-and-tested ways to diversify your income through online gigs.
1) Can I make money online by doing surveys?
Yes, there are a lot of legitimate survey sites and apps. You can earn a decent secondary income by registering and participating in these surveys.
2) Which survey sites pay the most?
Websites like Swagbucks, Toluna, Prize Rebel, Citizen Me, etc. are companies that pay good amounts to participants. Some even pay bonuses, gift cards, and other goodies as well.
3) Is PayPal necessary to get paid?
Most companies prefer paying out via PayPal, primarily due to its global existence. Hence, it is a good idea to set up a PayPal account before registering on these sites.
4) Are there other ways of making money online?
Yes, other than surveys, you can also earn money by participating in paid-to-click campaigns, website/app testing, data sharing, AI-based projects, and more.
5) How much can I earn from survey sites?
Rates vary based on the surveys. You can earn anything between $5 and $10 or more depending on the complexity of the surveys.