If you have been searching for a comprehensive list of free keyword research tools that work, you have reached the right blog.
Whether you're researching keywords for your website or your clients, building a relevant list is difficult. Although premium SEO tools like SEMrush and Ahrefs help a lot, subscription plans aren't made for everyone, especially if you're just getting started.
Luckily, there are many free tools on the Internet that you can use to gather and analyze all the essential information you need for choosing the right keywords. Each of these tools covers one or more aspects of keyword research, and you'll need to use them alternatively to filter out the best fit.
Full Disclosure: I've been using these tools for a long time. They might not have as many features, but they do the job no worse than their paid counterparts.
It is a free keyword research tool for SEO that generates thousands of keywords within minutes. The keywords also provide additional details about monthly search volume, competition metrics, and cost per click (CPC).
The user interface is straightforward. It includes a search bar that allows you to choose between two' search levels'. Search levels determine how many keywords should be displayed and how long it will take to search. The higher the search level, the longer it will take as it will show more keywords.
Best Features
No sign-up required
Shows hidden keywords
Can set negative keywords
Allows you to filter the results using metrics
Allows CSV and Excel downloads of data
Rank Tracker is the best free keyword research tool. It allows you to track high-traffic keywords easily. This is a powerhouse SEO toolkit that you should be using if you have a website. No doubt premium plans have many features, but the lifetime free plan also covers almost everything you'll ever need to rank your website.

It allows you to monitor your keywords, shows geo-specific rankings, and includes 23 keyword tools. This SEO suite is your best bet, from competitive intelligence to automated tasks when it comes to free keyword research tools.
Check out the full comparison of free and paid features. Please download the software from the official website to get started.
Best Features
Multiple SEO features
Four tools in one (Rank Tracker, Website Auditor, SEO SpyGlass, Link Assistant)
The free version allows 19 keyword research methods
Traffic data from Google Analytics
Supports 556 international and local search engines
Wordtracker claims to show actual (not grouped) keywords with additional details such as search trends, competition metrics, and more. It includes proprietary data and toolset that allows you to get 10k+ keywords per search.
Although you're limited to 12 free searches per month, you can acquire enough data for a few months of SEO work. It allows you to find related keywords and seamlessly gather data from multiple sources like Google, Amazon, and YouTube.
Best Features
Easy to use interface
Allows including and excluding keywords
Shows data for SEO as well as PPC research
Shows additional details for Volume and Competition
It also shows IAAT (In Anchor and Title Data)
KeywordsFX is a great free keyword research tool from WebFX, one of the world's largest SEO companies. It is a straightforward online tool that allows you to research an unlimited number of keywords.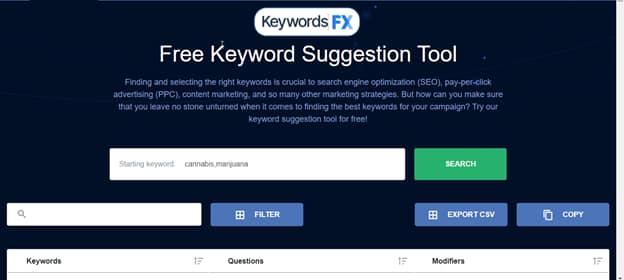 Search results include related words, questions, and modifiers. You can even download a CSV file or copy the full list. Sadly, this tool doesn't show you any details for search volume and competition.
This tool works best for preliminary search, especially when you're just trying to figure out a bunch of words to form the basis of your next landing page or blog.
Best Features
Excellent for short and long-tail keyword search
Great tool for finding ideas for content calendars and hub pages
Easy to use
Allows exporting and copying data
No sign-up required
QuestionDB isn't your standard keyword research tool. It works best for content writers and marketers trying to grow a blog. All you need to do is enter a broad keyword, and the tool will return an extensive list of questions.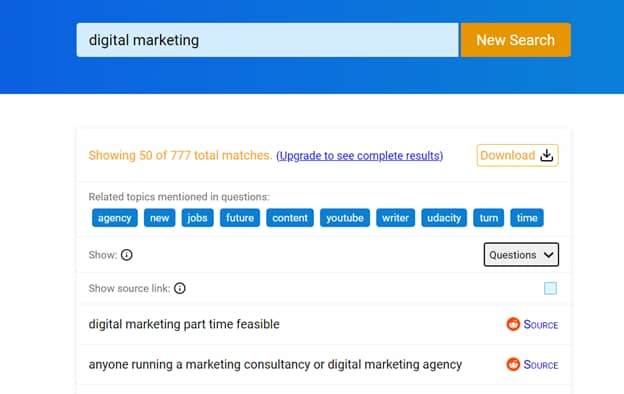 If you enter the right seed keywords in the search bar, you'll get a list of most-searched questions about the topic. It also allows you to view where the question was initially asked. Using the "source" feature, you can quickly check how and what others have answered.
Best Features
No sign-ups required
Unlimited questions, i.e., more content ideas
Allows toggle between keyword lists and question lists
Frequently updates question database
Shows the source of the question
Bottom Line
There are more than 200 SEO tools, both free and paid. Each of these tools comes with different features to cater to different areas of on and off-page optimization.
No matter which tool you choose, make sure to try out one or more free keyword research tools mentioned in this list because with these tools you'll be able to find high-volume keywords without spending a dollar.
And while you're at it, check out Keywords Everywhere – another fantastic free tool that comes quite handy when you're using Google.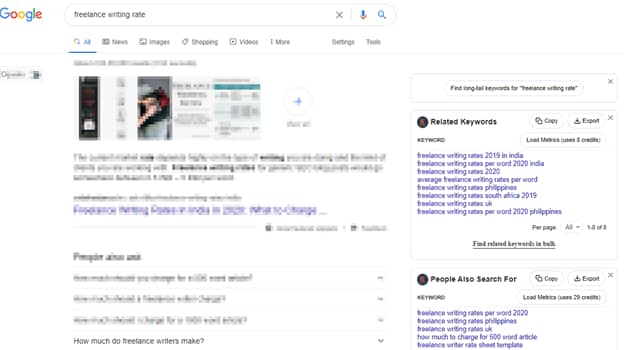 Download the extension and add it to Chrome or Firefox. Once done, this sleek tool will keep showing you graphical representations of the search interest for a particular keyword over some time. It will also show you many related and long-tail keywords right next to the search results page.
With these free keyword research tools in your armory, you're now all set to start writing content that ranks. If you need more help writing SEO content for the web, check out my quick guide on SEO for bloggers.