Content clustering is a new-age marketing tactic that helps increase a website's organic ranking. It is a blend of content marketing and SEO strategy designed to meet the continually changing search engine algorithms.
Once you start organizing your website's pages into content clusters, it gets easier to help Google bots understand the relationship between different pages of your website. These clusters also allow you to increase domain authority around an entire topic, not just a couple of keywords.
In the simplest terms, a content cluster is a topic modeling structure using which related content can be grouped (clustered) around pillar pages. Benefits include:
Increased visibility on SERP (Search Engine Ranking Pages).
Growth in organic traffic.
A better return on investment from your content marketing and SEO efforts.
Are you interested in learning more about content clustering and how it can help your website achieve better rankings? If yes, keep reading this blog.
Why Adopt a Content Cluster Approach?
Search engine algorithms keep updating in response to consumer's behavioral changes.
Over the last decade, fragmented keywords have worked quite well for creating ranked content. But as the years rolled on, Google's machine learning algorithm became more sophisticated than it ever was. It now understands the context of search queries and shows relevant pages instead of just ranking pages with the exact keywords.
Besides, voice search assistants like Alexa, Siri, and Google Home have disrupted how content gets ranked. Hence, there is no other alternative but to focus on building content clusters that match your target audience's search intent.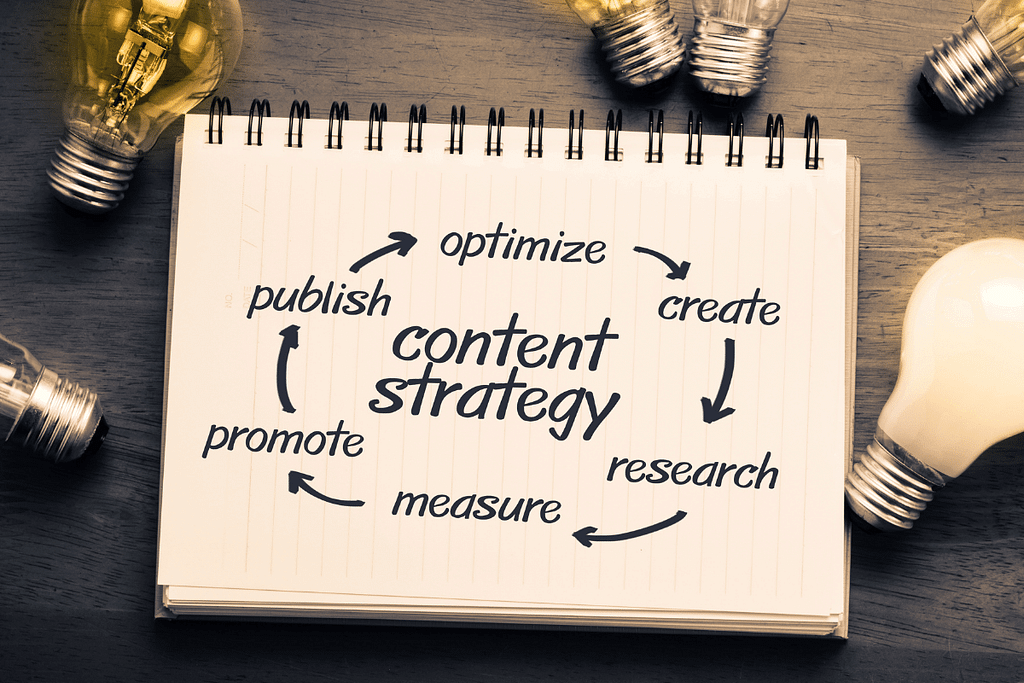 Here's a quick background of the major Google algorithm updates that have changed SEO over the years:
2011– Google released Panda update on February 24, 2011, to monitor duplicate, plagiarized and thin content, keyword stuffing, and user-generated spam.
2012 – On April 24, 2012, Google released the second major update to stop spam, irrelevant, and over-optimized anchor text links.
2013 – With the Hummingbird update on August 22, 2013, Google started removing keyword stuffing and low-quality content from search results
2015 – In this year, Google released significant updates related to mobile usability. If your website wasn't optimized for mobile search and focused on speed and usability, it became tough to rank.
2015 – Another major update, RankBrain – part of the Hummingbird algorithm, was introduced. It was a machine learning system that helped Google better understand search queries' meaning and show the best matching results.
2018 – The Medic update released on May 4, 2018, was tough on YMYL (Your Money or Your Life) websites. Some of the E-A-T factors (expertise, authority, trust) signals were implemented in this update.
2019 – Google released the Bert update on October 22, 2019. It included natural language processing technology to understand search queries better and logically interpret the text. Once implemented, the update started penalizing websites with poorly written and non-contextual content.
2020 – 2020 was no different: during these crazy pandemic times, Google rolled out Page Experience and Core Web Vitals updates.
PS*: Do you want to rank your website quickly? Check out my Super-Quick Actionable Guide on Google Ranking Factors for 2021.
"The Bert update is the culmination of the whole "moving away from exact-match results" updates implemented during Panda, Hummingbird, and RankBrain updates."
Benefits of Content Clusters
As content clusters rely on extensive research, content, and SEO, it helps websites achieve success by utilizing a tactical internal linking strategy. So when your website's visitor is reading one topic in the cluster, they will be able to reach another related topic by clicking on the current page's anchor text.
Major benefits include:
More chances of link building, both internal and external
Easier to pass link juice to other pages within the website
Helps build domain and page authority
Improves position in organic search results
Generates a higher return on investment
Increases traffic, leads, and conversions
Allows you to create content for all areas of your sales funnel
Aligns with Google's ranking factors
Understanding What a Content Cluster Is?
Before understanding the fundamentals of a content cluster, you need to understand a few related terms. These include:
Link Juice – A slang term used to define how much authority a backlink passes onto the recipient site.
Pillar Page – An intricate piece of content (blogs, articles, etc.) within your website, serving as the "hub" of your content cluster.
Content Cluster – All pieces of content that are internally linked to and from the pillar page of a cluster
Internal Links – Links between different content pieces within your website. It is the glue that holds your topic clusters together.
Navigational Keywords – These are typically branded terms that you will likely rank for naturally. People use these keywords to find something specific on the internet. (ex: Woodland trekking shoes)
Transactional Keywords – These are the keywords you would want to use for your primary products and services. Usually, these queries are more transaction-focused; meaning the user already knows what they're looking for (ex: lightweight trekking shoes)
Informational Keywords – These are the keywords people use when searching for more information on a product or service. You may want to target more of the informational keywords as it'll help you build more substantial content clusters (e.g., what are some excellent outdoor trekking spots)
Top of the Funnel (TOFU) – The marketing phase wherein you start generating leads on your website. In this phase, you'll be creating content that builds awareness.
Middle of the Funnel (MOFU) – In this phase, you aim at generating prospects from the acquired leads. Most of the content will focus on teaching people how to choose the right product or service.
Bottom of the Funnel (BOFU) – Customers are at the final stage of their journey. In this phase, you need to create content that explains why your product or service is the best choice.
Now that we have the terminology in order, here's what a content cluster means.
Without content clusters, you won't be able to drive many benefits from your SEO efforts. You may publish multiple keyword-rich blogs…and keep doing it again and again – using different keywords each time.
By the time you realize it, you'll have tons of blogs on various topics, some of which aren't even directly connected to your industry. You'll find it difficult to link one piece of content with another, forcing Google to overlook the high-quality content you have amassed on the website.
But with content clusters, you'll have a significantly more organized approach to content marketing and search engine optimization. You'll be able to manage content around topics into pillars and cluster pages. It gives you more chances to target different related keywords and cover more areas related to your industry.
Here's a visual example to help you understand how the concept looks through the eyes of search engines: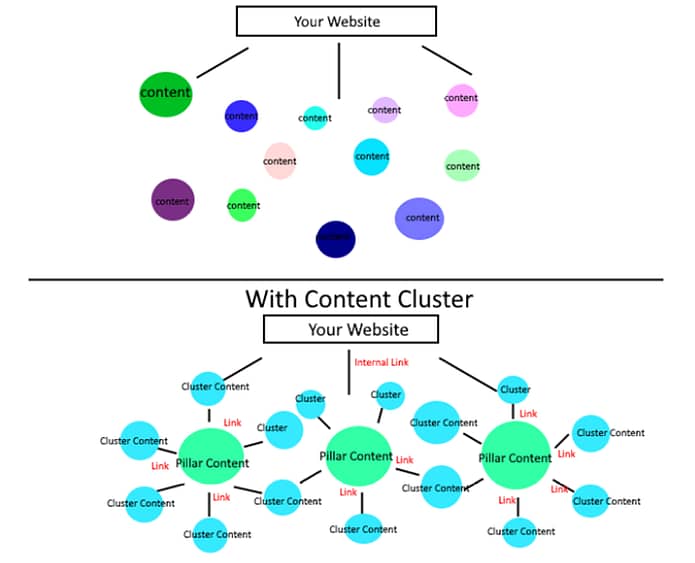 Using a content cluster or topic cluster model, you'll be able to plan, write, and organize a high-quality collection of content that is easy for Google to crawl and useful to your customers.
The internal links will help Google understand that there's a link between all of the linked pages. When you start adding optimized content to each page, it shows to Google that your website possesses an expert-level knowledge of a topic, increasing your website's page authority, domain authority and giving you a massive boost in organic search rankings.
TLDR: All content clusters utilize successful and strategic internal linking to connect related content across your website. These internal links are among the major factors that Google RankBrain reviews when evaluating your content's authority and quality during its routine crawls.
Content Cluster Examples
A typical content cluster strategy starts with the main topic, followed by sub-topics based on one or more of the following factors:
Variations of keywords
The intent of the user's search
Superlatives
Frequently Asked Questions
For instance, a company deals in digital marketing services. The topic "A Detailed Guide on Digital Marketing" can be pillar content. Once published, the page forms the basis of the next set of blogs that can include topics like:
How to do SEO keyword research
Social Media Marketing Guide for Businesses
How to run Google Ads
How to add my business to Google My Business
A Guide to Content Marketing for Businesses
Email Marketing Tips and Tricks
Messenger Marketing
How to use Google Analytics
The list can be as long as you want it to be. One can create more pillar pages from the sub-topics as well. For example, the pillar page Digital Marketing can also connect to pillar content called Social Media Marketing. The company can keep adding sub-topics to cover guides on different social media platforms under this pillar page.
Here's a visual representation of how the topic cluster looks:
How to Build a Content Cluster for Your Website?
A fundamental way to design a content cluster for your brand starts with understanding your marketing funnel. Based on the sales funnel, you'll need to determine the pillar content. At this stage, keyword research isn't that important as you'll be focusing on finding the right topics.
Let's use the previous example of a digital marketing agency to help you easily understand the process of creating topic clusters. The agency thinks it's time to overhaul its website for higher rankings. Here's a step-by-step approach to follow before they start working on building content clusters:
Gather Existing Content
Start by auditing all of the content on the website. It is a good idea to group the content by topics. A simple way to achieve this is by extracting the title, keywords, categories, and tags of the posts onto Microsoft Excel.
Next, sort the exported content using either keywords or tags to identify your brand's core topics. Once the data is segregated, check if you need to create new pillar content capturing all the critical aspects of a particular topic.
Choose Topics for Your Pillar Pages
A successful content cluster strategy starts with high-quality pillar pages that will act as the foundation of the remaining topics. It would help if you focused on creating all of the upcoming content around the pillar pages.
For the digital marketing agency used in our example, the pillar page can be a detailed blog on digital marketing.
To figure out your brand's pillar topic, you need to analyze the keywords that work best for your products and services. You should include terms that are searched frequently and relate directly to what you offer.
When choosing topics for pillar pages, make sure to research and compile different keywords – transactional, informational, and navigational. In general, your website's product pages should cover transactional queries, and blogs should cover informational queries. Navigational queries, on the other hand, will take care of themselves.
Generate unlimited keywords without spending a dollar. Check out my list of the 5 best and free SEO keyword research tools.
Take into account the sales funnel and plan your content accordingly. A simple way to strategize funnel-based content is to plan for each level of the customer's journey:
Top of Funnel: Create content targeting new visitors. These users might have never heard of your brand and are least interested in knowing what you have to offer.
Middle of Funnel: Create content for the audience who knows that you offer a product or service they need but are still considering if they want to buy from you.
Bottom of Funnel: Create content for people who realize that your product or service fits them and are interested in buying from you.
Here's the catch: most businesses focus on creating content for the bottom of the funnel. It seldom works because most of the content is aimed at conversions.
To get the most out of a content cluster, you need to keep your target customer in mind – from attracting them to learn more about you, convincing them about your products or services, and finally persuading them for sale.
"Keep your pillar content updated frequently. It needs to be the best it can be. Once done, start publishing sub-topics within the cluster and link back to the pillar page using relevant anchor texts."
Track Metrics and Optimize
It is critical to track the content and the links that you're adding to the topic clusters. A simple way to keep track of all of the data is by maintaining an Excel workbook from the very first day. Depending on your website's size, the depth of topics, keywords, and the number of internal links, you may need to monitor a lot of data.
That said, the most important categories to track include:
Page URLs
Topic Name (Cluster)
Sub-topics
Keywords (pillar page and sub-pages)
Internal links
Link Hierarchy
Practical Tips for Building Perfect Content Clusters
Finding the right topics to build a content cluster is intimidating. In addition, auditing and grouping previously published content can be equally painful, especially when your website already has hundreds of blogs.
Here are a few suggestions to help ease the hard work of creating topic clusters:
Start by brainstorming the key issues your product or service addresses. You can gather the data by running surveys, interviews, and researching on the web.
Group each of the critical issues into core topics. Try creating as many topics as you can. The idea is to build a list large enough to create pillar pages for the cluster.
Next, list sub-topics under the core topics. Research long-tail keywords to include in these sub-topics.
Plan out your content calendar with ideas that cover core topics and sub-topics. All of the sub-topics you publish will form your website's cluster pages.
Publish the pillar content. Make sure to write a high-quality piece that includes lots of research, data, and facts and is optimized for humans and bots.
Start adding sub-topics with relevant keywords. Include the pillar post link in all of these related blogs.
Keep linking pages to pillar content and vice-versa.
All of these steps need to be manually completed; hence it may be time-consuming. But creating content clusters is a worthy investment – one that will yield results with time.
Bottom Line
Using the topic clustering tactic, you'll be able to carefully organize your website's internal links matching your site's overall hierarchy. Just make sure to double-check the link structure between different pages of the content cluster.
For instance, every pillar page should link to a relevant top-level page. The pillar page's content must be divided using Header Tags (H2, H3, etc.) with links to different cluster pages. Each pillar page should also contain links to other pillar pages covering related topics.
For instance, every pillar page should link to a relevant top-level page. The pillar page's content must be divided using Header Tags (H2, H3, etc.) with links to different cluster pages. Each pillar page should also contain links to other pillar pages covering related topics.
Not sure how to build a content cluster for your business? Don't hesitate to reach out, and I'll be glad to help you create a definitive content marketing strategy that will generate you more leads and conversions.
FAQs
1. What is a content cluster?
Content clusters, also referred to as topic clusters, is a new-age marketing tactic that helps increase a website's organic ranking. It is a blend of content marketing and SEO strategy designed to meet the continually changing search engine algorithms.
2. How do I build a content cluster?
Start by brainstorming the key issues your product or service addresses. Next, group these issues by keywords and create individual topics for each case. Create a pillar page that covers the core topic. Then publish the relevant sub-topics as separate pages (cluster pages) and link them to your pillar pages.
3. Why are content clusters significant?
Content clusters help Google easily crawl your website and assess the depth of information included in the webpages. It helps target (and rank) various keywords and topics and increases the website' DA, PA, and SERP visibility.
4. How do I generate ideas for my content cluster?
Think of the powerful queries that your audience needs answers for. Review how your products and services can address these queries. Analyze what people are searching for related to what you have to offer. Look at your marketing funnel, filter out the different keywords (transactional, informational, and navigational) and use them to generate pillar and cluster content topics.
5. Is a content cluster worth the investment?
Definitely! Although building a content cluster demands a lot of time, research, and work, it is one of the most effective ways to increase your website's organic ranking and visibility. With the right strategy in place, you'll be able to generate more leads and conversions while lowering your overall marketing expenses.