Google ranking factors keep changing constantly.
With every new update, some new factors come into play, while some old elements fade away. 2020 was no different: during these crazy pandemic times, Google rolled out Page Experience and Core Web Vitals updates.
It also clarified that starting in 2021; AMP will no longer be the only way to make it to the Top Stories section on mobile devices. Any optimized news page can now become a Top Story.  Google's officials also informed that E-A-T isn't a ranking factor in itself and that quality rater's don't directly influence any page's rankings.
First Page Sage, the largest SEO firm in the US, designed this pie-chart to help understand the significant factors that will influence your website's search rankings in 2021.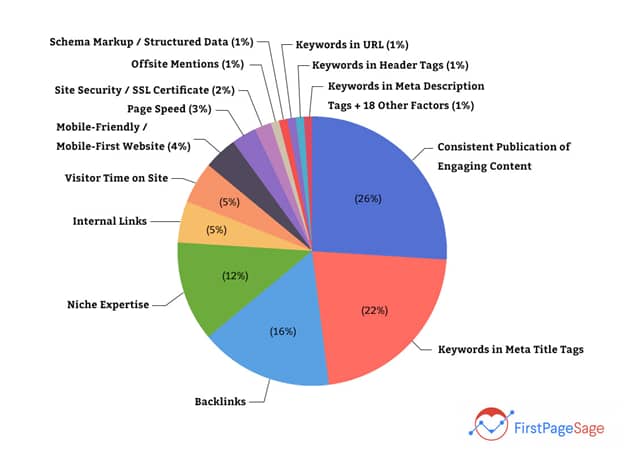 Based on the updates, it can be rightly said that webmasters and business owners will now need to rethink their search engine optimization strategy.
If you're running a website on your own, it can get difficult for you to keep pace with these frequent updates. Also, not everyone understands the technical aspects of SEO. However, there are some basic things that you can apply to your website (without the need to learn anything technical).
Top 4 Google Ranking Factors
Factors like mobile-first design, page speed, and SSL can be easily managed by choosing the right options. Some things that you can do include:
Always select mobile-responsive themes.
Add AMP to your website. 
Use lazy loading features.
Optimize images to lower their size.
Opt to cache data to speed up page load time.
Next comes the part where you need to:
Find and use the right keywords.
Add optimized content that helps visitors.
Build internal links within your website.
That said, here are 4 Google ranking factors to consider for higher organic search rankings in 2021. Make sure to check each factor every time you publish a new blog.
Mobile-Friendly Pages
Almost two-thirds of searches are done on mobile phones. As more and more people start using mobile devices, it is no surprise that Google emphasizes mobile-friendly website designs.
If you already have a website but aren't sure if it is mobile-friendly or not, just head over to Google Search Console and verify the same under Mobile Usability.
The red bar indicates the errors that you need to fix. Scroll down, and you'll see the list of mistakes. Make sure to improve each element for best results.
Page Speed [Website + Mobile]
No one likes to wait. Hence, Google wants you to optimize your pages so that they load in the blink of an eye. There are various tips and tricks to achieve fast load times, some overly technical (minimizing JavaScript and CSS, etc.), some relatively easy (optimizing image, etc.).
The easiest way to check if your website has the right speed is to use the right tools. Here are two things you can do
Use Google's Mobile-Friendly Test tool to check and fix errors, if any.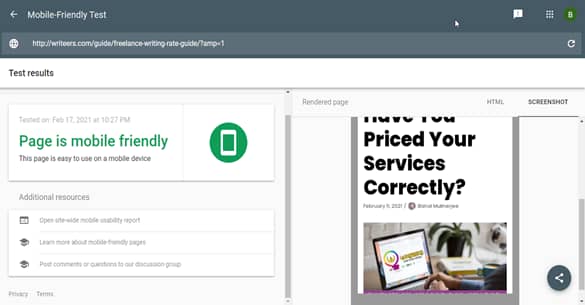 Visit Google Page Speed Insights and enter the URL you wish to check. Scroll down to see recommendations that will help you further optimize the page.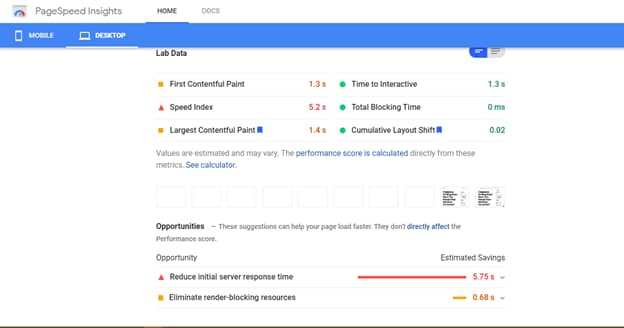 Bonus Tool: For more detailed insights, use GTMetrix. Here's how a report looks (you can even download PDF versions by just registering an account).

Optimized Content
Almost every SEO professional will advise you to post optimized content on your website. But what does it really mean?
Google displays results by matching the user's search intent (keywords) with the indexed pages. Suppose you have a blog that answers the user's query using relevant words and phrases. In that case, you'll have a better chance of gaining higher visibility on organic search results.
Read the full guide on SEO for bloggers to start creating content that bots and humans love.
It is also critical to understand that SEO content writing isn't just about the primary keyword. Optimized blogs consist of terms related to the direct term (referred to as long-tail keywords) that people are searching for. You must include LSI (latent semantic indexing) keywords in your content for better rankings.
Learn how to find unlimited long-tail keywords using FREE SEO tools.
User Experience
Google prefers to rank content that ensures a positive experience for visitors. User experience has always been a priority for the search engine giant. It is in your best interest to check your website's markup using the Rich Results test, review your site's hierarchy, use https:// wherever possible, and plan the overall website navigation based on your homepage.
"You should build a website to benefit your users, and any optimization should be geared toward making the user experience better."

Google's SEO Starter Guide
Multiple factors contribute to a good user experience. However, some critical suggestions that you must implement include:
Content that is easy to read, interesting, and useful
Responsive website design
Well-organized website hierarchy (navigation menu, internal links, etc.)
Web pages that are designed to meet user's needs.
Avoid redundancy, broken links, and any form of intrusive ads or elements.
It is challenging to get the right settings the first time around. Be patient, keep reviewing intricate user behavior details using Google Analytics, analyzing click-through rates, dwell time, bounce rates, and other relevant factors to optimize for the best user experience.
Summary
Ranking for organic search results isn't always about using high-volume keywords, black or gray hat SEO tricks, or brainstorming on many technicalities. It is mostly about putting in the required effort to create content relevant to your target audience's search intent, providing a good user experience, and proving to Google that your content addresses user's questions.
It doesn't matter what your website's niche is. What matters most is that it meets Google's guidelines and is optimized for speed and responsiveness. The only way to dominate search results is by keeping yourself updated with the latest developments in search algorithms and continuously optimizing your website.
To be honest, there are over 200 Google ranking factors – proven, controversial, and speculations. It isn't possible to keep track of (and meet) all of them. Hence, start by addressing the four major Google ranking factors mentioned in this quick guide and you'll start seeing positive results sooner than you expect.